Grace Young - The Stir-Fry Guru
This Site is under cunstruction. For what's happeningn go to my Instagram.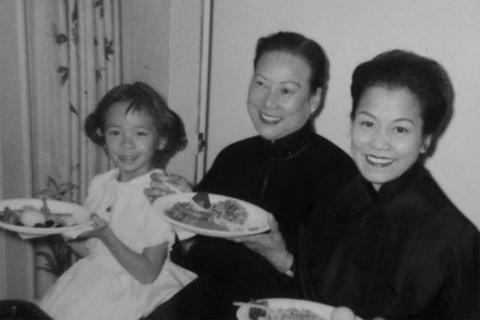 About Grace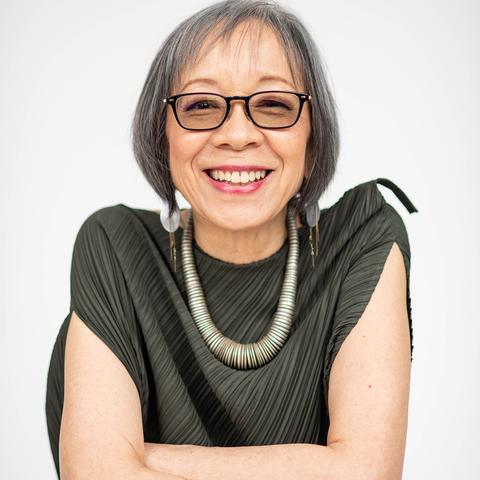 Grace Young is an award-winning cookbook author, culinary historian, and filmmaker. She is a 2023 Forbes 50 Over 50 honoree, and is the recipient of the Julia Child Award , the James Beard Foundation's Humanitarian of the Year Award and is a USA Today Women of the Year honoree for her work to save America's Chinatowns. Dubbed the "accidental voice for Chinatown" by Grub Street, Grace's advocacy for Chinatown and AAPI mom and pop businesses has been profiled on CBS Mornings, All Things Considered, PBS Newshour, Washington Post, Wall Street Journal, Smithsonian and Vogue. She has been a fierce advocate for Chinatown, never more so than in her video series Coronavirus: Chinatown Stories, produced in collaboration with videographer Dan Ahn and Poster House Museum. The series documents the toll of the pandemic on New York City's Chinese community.

Grace is a three-time James Beard Award-winner and a six-time IACP Award-winner including the 2021 Lifetime Achievement Award. She is currently partnering with the James Beard Foundation on the #SupportChinatowns social media campaign. The goal of the campaign is to raise public awareness to support America's Chinatowns today so they will exist for others to enjoy tomorrow.

In 2022, Grace was honored as one of EatingWell's American Food Heroes; she received the Chinese American Museum DC Gold Lantern Award and Welcome to Chinatown's Chinatown Champion Award for her work to save America's Chinatowns amid anti-Asian hate during the pandemic.  Her efforts have been chronicled in the media including CNN, BBC radio, AARP, The Splendid Table, The New York Times, America's Test Kitchen, Food & Wine, Condé Nast Traveler, KCRW's Good Food, Swiss National Public Radio, Today.com, Buzzfeed News, The Boston Globe, New York Magazine, The World PRI, Cherry Bombe radio podcast, Edible Manhattan, Self, Eater, Serious Eats, Thrillist, Condé Nast Traveler Spain, WNYC's All of it with Alison Stewart, The Brian Lehrer Show, Ed Levine's Special Sauce podcast, HuffingtonPost EatingWell, theKitchn, Well + Good, The Post and Courier, ABC's Localish, and she was included in Good Morning America's Inspiration List: Who's Making AAPI History in 2021.

In 2020 Grace partnered with the James Beard Foundation on a social media campaign to #savechineserestaurants. Building on that campaign, in 2021 she collaborated with the James Beard Foundation and Poster House museum on the #LoveAAPI social media campaign to fight anti-Asian hate. In 2021 she partnered with Welcome to Chinatown for Grace Young's Support Chinatown Fund, a campaign that raised over $40,000 to support four legacy NYC Chinatown restaurants in distributing food to low-income, food-insecure, and at-risk senior residents. In 2021 Grace also partnered with Asian Americans For Equality (AAFE) for the Safe With Sound campaign, raising over $25,000 to provide 7,000 personal security alarms for the AAPI community.

The Young family dinnerware, a set of Canton Rose porcelain, circa 1939, was donated in 2021 to the Smithsonian National Museum of American History. Grace also gave the museum her family's wok, circa 1949, which was part of the Museum of Food and Drink's Chow exhibit; at the Smithsonian, it will serve as a significant artifact of Chinese-American culinary history. In commemoration of being honored with the Julia Child Award in 2022, Grace gave the Smithsonian her autographed copy of The French Chef Cookbook, a first edition of The Wisdom of the Chinese Kitchen, and some personal Julia Child memorabilia.

In 2021 Grace received the James Beard Foundation's Digital Media Award, as well as a Webby Award nomination for her video comedy Wok Therapist.She also received the James Beard Award for her cookbook Stir-Frying to the Sky's Edge and a James Beard nomination for The Breath of a Wok video. She has won six IACP awards including the 2019 Culinary Classics Award for The Breath of a Wok, which also won the Jane Grigson Award for distinguished scholarship. Her first cookbook, The Wisdom of the Chinese Kitchen, won the IACP Best International Cookbook Award. Grace's video, Chinese Trinidadian Chicken with Mango Chutney, won the 2017 IACP Digital Media Single Food-Focused Video Award. Grace is the recipient of the World Food Media Award and the eGullet Culinary Journalist Scholarship. In 2016 Grace was named one of the "40 for 40" women honorees for the American Museum of Natural History's Margaret Mead Film Festival.

Grace has given lectures and programs at the Smithsonian National Museum of American History, Smithsonian Associates Culinasia, American Museum of Natural History, Poster House Museum, New York University, San Francisco Asian Art Museum, Radcliffe Institute for Advanced Study, Culinary Institute of America Greystone, James Beard Foundation, Greenbrier Symposium for Professional Food Writers, French Culinary Institute, Museum of Food and Drink, New York Culinary Historians, Culinary Historians of Chicago, Culinary Historians of Northern California, NASFT (National Association for the Specialty Food Trade), IACP (International Association of Culinary Professionals), Tenement Museum, Omega Institute, China Institute, Asia Society, Chinese Historical Society of Southern California, Chinese American Museum of Chicago, Chinese Historical Society of America, American Institute of Wine and Food, Stone Barns, CUNY Asian American Alumni Group, IBM, KPMG, Cigna, Deloitte, Spotify, Viacom/CBS, Shiseido, and Credit Suisse.

Named the "poet laureate of the wok" by food historian Betty Fussell, Grace Young has devoted her career to demystifying the ancient cooking utensil for use in contemporary kitchens. Grace has devoted much of her career to preserving the traditional iron wok. With the growing popularity of nonstick cookware, the wok is an endangered culinary tool. She is the first food writer to write extensively about wok hei, the Cantonese term for a stir-fry imbued with the wok's unique fragrance and flavor. Grace's translation of wok hei as "breath of a wok," which she coined in The Wisdom of the Chinese Kitchen, is now a part of the Western culinary vocabulary. Serious Eats recently featured Grace in a special profile of her wok collection. In 2004, Grace was a guest curator for The Breath of a Wok exhibition at New York University's Asian Pacific American Gallery. In 2005 the show traveled to the Portland Classical Chinese Garden in Portland, Oregon.

Grace has been featured in The Washington Post, The New York Times, and on CBS Sunday Morning. In addition to appearing as a guest on Sara's Weeknight Meals and the Martha Stewart Show, her work has appeared in Cook's Illustrated, America's Test Kitchen, Food52, Epicurious, Vogue, Bon Appétit, theKitchn, Chow, Food & Wine, Fine Cooking, Saveur, Chicago Tribune, Boston Globe, Edible Communities, Gastronomica and Gourmet. For seventeen years Grace was the Test Kitchen Director and Director of Food Photography for over forty cookbooks published by Time-Life Books.

Throughout Grace's career healthy cooking has been a primary focus. She is featured in the WeightWatchers Stir-Fry Guru video series. Grace was the Test Kitchen Director for the U. C. Berkeley Wellness Cooking School and has written for EatingWell, Cooking Light, Shape, Men's Health, Women's Health, Fitness and Health magazines.

Grace is the co-founder of Wok Wednesdays an online stir-fry-wok cooking group. She has taught healthy stir-frying in cooking schools and spas throughout the U.S., including her popular Craftsy The Art of Stir-Frying online class which has reached over 12,000 students.

Grace currently serves on the Smithsonian National Museum of American History's Kitchen Cabinet, an advisory board made up of leaders in food scholarship and culinary history to help the museum shape and expand its research, collections, programs, and exhibitions related to food and beverage history. From 2004 to 2010, she served on the James Beard Foundation's Book Awards Committee. She was a contributing editor for Saveur magazine from 2006 through 2015.